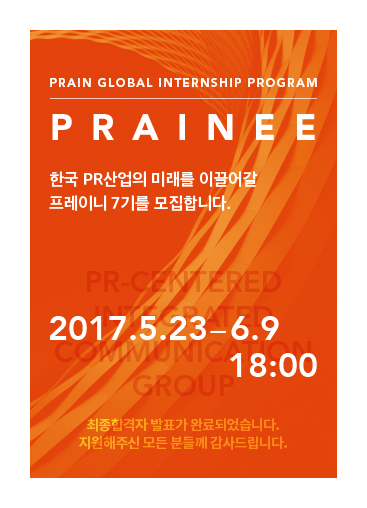 소개

PR회사는 고객사의 가치를 높이는 전략을
찾아내는 브레인의 역할을 해야 한다는 철학이
Prain 사명에 깃들어 있습니다. 회사소개서 다운로드
뉴스 및 공지

프레인글로벌의 "2016 저출산 고령사회 대비 인식개선 홍보 '가나다 캠페인(가족문화 개선 나부터 다함께)'"이 2016 한국PR대상에서 대상을 수상했습니다. 본 프로젝트는 저출산 문제
해결을 위한 국민 인식과 문화 개선을 위한 새로운 홍보 캠페인을 제시하였습니다. 또한, 프레인글로벌은 PR 트렌드 선도와 PR 산업 발전에 기여한 공로를 인정받아 2016년 한국 PR 대상에서 올해의 기업으로 선정되었습니다.
Recruit
공채 : 매년 하반기(11~12월)
프레이니(인턴사원) : 매년 상반기(5~6월)
경력직 : 수시채용
공고 : 홈페이지 우측 상단 PRAINSIDE 참고
문의 : hr@prain.com
Introduction
Prain, the company name, is a mixed word using
PR and Brain. It resides in the name of the company
that a PR firm has to be a brain developing
strategies which enhance the value of its customer.
For more information of Prain
NEWS

2016 'Ga Na Da Campaign', won the grand prize in 2016 Korea PR Association Award.
The campaign was aimed to improve public awareness of low birthrate and aging society problem in Korea.
Recognized as a leading PR trend setter and contributor in PR industry, Prain Global also won PR Agency of the year in same award.
Recruit
Hiring Period

- Entry-level open recruitment: The second half of every year (November-December)
- Internship Program (Prainee): The first half of every year (May-June)
- Experienced-level recruitment :
Year-round

How to Apply

- Prain Website(www.prain.com) > PRAINSIDE

Inquiry

- Email: hr@prain.com
About Us
Prain Global Inc.